Does charisma matter?
That Daley, a 50-year-old ex-customs officer, could become premier of the largest state in the Commonwealth after next Saturday's NSW election raises the question: does charisma matter in politics anymore?
When describing Labor's chances of winning, Daley likes to lift his eyes above the horizon and reach one hand towards an imaginary mountain. Sometimes, the articulation doesn't match the imagery.
"I have always thought this would be an arm-wrestle of the highest proportions and it's turning out to be a huge arm wrestle," Daley said on the campaign this week. "We have Everest to climb. We're climbing it as hard as we can. All I can do is do what I'm doing."
Bob Carr, a NSW premier renowned for his speaking skills, argues that Daley's low-key style conveys competence, confidence and authenticity.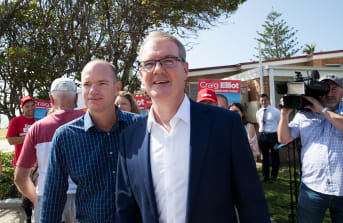 "I don't think anyone as an opposition leader ever attracts generous comment for their communications skills," he says. "It's really only in government you get any acknowledgement if you are half way good at it."
A humble man
To give Daley credit, he doesn't stonewall, mostly. Asked this week how his party could encourage supporters in different seats to vote for the Greens and the Shooters, Fishers and Farmers second – prompting Coalition claims of hypocrisy – Daley said preference swaps with other parties were designed to win seats.
The pragmatic response disarmed any further the hostile questions on the topic. Unlike Berejiklian, who a few days earlier refused 10 times to answer when Allianz Stadium in central Sydney would be demolished: one of the biggest issues of the election. The evasiveness looked dishonest.
Daley's parents were humble and softly spoken, traits the younger man has adopted. Daley prides himself on his equanimity.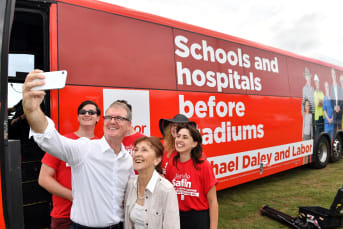 Daley's upbringing defines him as an individual and a politician. His forebears were Irish immigrants, some of whom became dairy farmers on the NSW central coast. He grew up in Maroubra, a working class beach suburb in southern Sydney, and attended local Catholic schools.
In profile interviews, Daley invariably describes his 12-year-old self delivering papers to a housing estate and mixing with what he once described as the "beauty of the working class". Class consciousness and social skills were forged in a pre-pubescent mind, the anecdote suggests.
Labor network
More important to his career was probably a decision at 27 to join the local Labor Party, which was still a powerful force in Sydney suburban politics at the time, and become an officer in the highly-unionised federal Customs Service. He studied a diploma of law at night.
The Labor machine was good to Daley. It helped him get elected to the Randwick Council, where the trade in political donations and property development was brisk for all sides.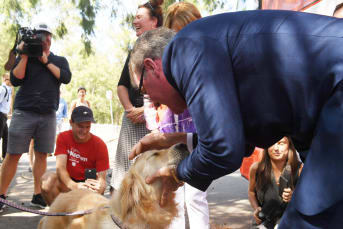 The council helped build Daley's profile in local Labor branches, and beyond. In one incident used to embarrass him three weeks ago, Daley approved an extension to a carport owned by corrupt Health Services Union leader Michael Williamson. Daley, who records suggest inspected the property in person, said he didn't know who owned it because the application was made in the name of an architectural firm.
After five years at a private legal firm he was hired by the NRMA. The motor services association was chaired by Nicholas Whitlam, son of the great Labor prime minister, and was changing from a mutual society to a corporation. More legal firepower was needed.
Daley appears to have told The Guardian, for a December profile, that he asked Whitlam for the job. But Whitlam says he didn't meet Daley until after he started.
"I don't know when Michael arrived but I was very conscious he had arrived because I knew he was involved in Labor politics in the Randwick area," Whitlam says. "He was a good bloke and a good lawyer."
'A good parliamentarian'
Carr, the long-time Labor premier, resigned in 2005. Daley was chosen for his plum seat of Maroubra. Initially, he dedicated himself to learning the rules of the Legislative Assembly, figuring that he needed to master parliamentary procedure to become a credible senior political figure.
"I wanted to be not just a successful politician, but a good parliamentarian," Daley says in an interview on his campaign bus this week. "I studied the standing orders and worked hard to understand how parliament operated."
Paul Keating, who remains an influential figure for Labor politicians in NSW and elsewhere, offered advice, according to Daley. The former Labor prime minister told Daley to learn how the state budget operated because access to funding was the core challenge of every department and agency. Understanding government budgeting was dull, detailed and tedious work. Daley was perfect for it.
Carr was succeeded as premier by Morris Iemma, who had been impressed by Daley's comfortable campaign manner. Iemma watched Daley hone his performances in parliament and contribute to several important parliament committees that helped develop legislation.
Iemma was fighting what would later appear to be a corrupt cabinet cabal. Eager for more ministerial allies, in 2007 he appointed Daley parliamentary secretary to the treasurer, an intermediate step between backbencher and minister. Iemma wanted to sell NSW's power generators and electricity retailers. Daley, who now campaigns against privatisation of public assets, supported him.
'Strong opposition'
In late 2008, Iemma told Daley that he wanted to appoint his own cabinet, which was chosen by the party's factions. Daley was on the incoming list. A person involved in the discussions said faction leaders Eddie Obeid and Joe Tripodi fought his promotion.
"It's a matter of record there was very strong opposition to Daley coming in," Iemma says.
Iemma had already concluded he wasn't going to win – although he didn't tell Daley – when he asked a meeting of Labor MPs to agree to the new ministers. When it refused, Iemma resigned, a decision that illustrated the huge power exercised by Obeid, who is in jail for corruption, over the NSW Labor government, which was discredited and removed from power in 2011.
Ironically, the fall of his patron helped Daley's career. He became roads minister in the new government, then police and finance minister, demanding portfolios he held simultaneously.
In opposition he was treasury spokesman for five years, a thankless and low-profile job. He was moved to planning and infrastructure three years ago by his leadership predecessor, Luke Foley, who was fired last November for groping a female journalist and has since vanished from the public eye.
Disciplined days
In the three months since, Daley likes to say he has taken only two days off. He wakes about 5.30am, reads the newspaper and joins a daily strategy call with his campaign organisers.
He says he sleeps about six and half hours a night, and follows a diet endorsed by the CSIRO that he credits with helping him lose 10 kilos.
"I have a son who's eight and I want to be around to see him get older," he says.
Pressed, Daley admits to attending church. "I don't like to make a big deal of it," he says. "I sit in the back row."
What power looks like
In government, Daley promises centrist government. Labor's policies would be much more union-friendly than the Coalition's.
There is a promise of 5000 extra nurses, which delighted the powerful nurses union, and an aspiration to raise public service wages by at least 3 per cent, which could be inflationary.
Daley denies that he plans to increase taxes, even though he has promised extra charges on expensive boats and cars.
On the construction of new roads, tunnels and rail lines – which the Coalition is most proud of – Daley says his government will try harder to win over local communities. More consultation will likely mean more compromises, longer delays and higher costs. Sometimes that's the price of democracy.
Berejiklian is more popular than Daley, according to a poll this week, although the Labor leader is gaining. One of the advantages of Daley's recent elevation is that few voters know enough about him to dislike him.
Last week Daley received huge kudos for promising to sack AM radio broadcaster Alan Jones from the Sydney Cricket and Sports Ground Trust.
Less noticed was that he accused the trust of removing fire sprinklers from Allianz Stadium "under cover of darkness" to bolster its case the 31-year structure is a safety hazard.
There never were any sprinklers in the rugby and soccer stadium.
In politics, truth is the first casualty.