The only other 5G-related feature in the Galaxy S10 5G isn't on display yet, because it doesn't exist yet.
Compared to Samsung's other Galaxy S10 phones, the 5G variant has extra depth-sensing lenses on it, which at the moment allows users to shoot videos with artificially blurred background: a feature that has nothing to do with 5G, unless uploading those videos to YouTube faster counts as a feature.
But Samsung says the depth-sensing lenses are also there to help the phone with augmented reality apps, which it says may become a real thing in the 5G world, due to how responsive they could be compared to 4G augmented reality.
Meanwhile, the main new feature in LG's V50 ThinQ phone, another phone that Telstra says will appear in its stores the moment it becomes available in coming months, has nothing whatsoever to do with 5G.

It has an optional case that is itself a screen, that turns the phone into a foldable phone like the Huawei Mate X or the Samsung Galaxy Fold, except for one big difference: there's a giant bezel running down the middle, where the original screen ends and the extra screen begins.
But if new 5G phones aren't all that different from the 4G phones users will be upgrading from, at least in terms of the specific, 5G related features, that may not prove to be a big problem for the rollout of 5G networks, which are about far more than phones, but are about all sorts of new services, including new services for industry, and the connection of millions upon millions of Internet of Things things, that don't need fancy high-speed video, but that just need to be connected en masse, at low cost.
Tim Dillon, director at Tech Research Asia, says that many of the most important advantages that 5G has to offer – such as offering mobile phone operators such as Telstra the ability to "slice" their phone network into multiple, virtual networks, each with customised levels of security and performance – don't even apply to phones.
"There are business cases for 5G, but at the moment they are predominantly emerging as vertical-specific: automotive applications, mining applications and so on," he says.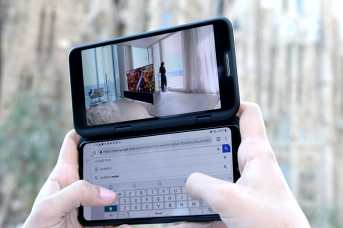 The financial services solutions that Telstra and the Commonwealth Bank announced they are jointly working on are an example.
Though Telstra officials refused to give many details about their collaboration with the CBA, the solutions would probably take advantage of that slicing feature, officials said, presumably allowing the CBA to determine the level of security and latency it needs for devices such as 5G-connected mobile EFTPOS terminals.
And even the features of 5G that apply most directly to phones – download speeds and latency – may not make that much difference to the apparent performance of 5G phones, experts at MWC say.
The 20-fold increase in download speeds that 5G offers would only be attained if everything in the download chain, from the server all the way across the internet to the mobile phone tower, is also capable of those speeds.
The so-called "last mile", the radio connection between the phone and the tower, may be 20 times faster, but if everything else isn't fast, too, then users may not notice much difference when they upgrade to a 5G phone.
It's doubtful that Samsung could have demonstrated its baseball game stream off a server located in Korea or the USA, for instance. It's probable it only worked because it was streaming from a server that was hidden inside the Samsung booth at MWC itself.
Nevertheless, as Telstra CEO Andy Penn pointed out here at the show, 5G upgraders will notice they're on a far less congested network, especially at first, meaning that they'll generally enjoy better speeds even if the new speeds are nowhere near the theoretical maximums of 5G.
And, indeed, this will have a knock-on effect for 4G users, too: since 5G upgraders will tend to be heavy data users, 4G users should see the load on their network lighten, and they should see a speed improvement, too, even without upgrading to 5G.
John Davidson is in Barcelona as a guest of Microsoft