ASIC also said it expects licensees to begin using the government's comprehensive credit reporting and open banking policies in loan assessment systems. ANZ said the additional information about customers may result in a short-term increase in the number of customers being knocked back for loans, but it expected this to normalise over time.
Access to more granular data "will become standardised and a helpful part of the conversation" with customers, said ANZ's managing director of customer engagement, Katherine Bray. She told the RFI event it would allow banks to "make better lending decisions at the time of drawdown" because "customer conduct would be evident at the time of application".
However, "at ANZ we expect the rate of first touch declined probably to increasing marginally in the first instance, as customers reduce their under-utilised limits, but hope that is a temporary blip as consumer education builds and the system adjusts to the increased intelligence we have at our disposal."
Shadow shopping
In a presentation to mortgage industry leaders, Mr Saadat said the regulator has completed a secret, home-lending "shadow shopping" exercise, in which it followed 250 mortgage customers between March and September to compare their experiences with brokers and bank branches.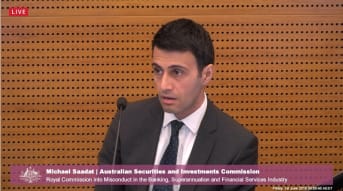 A report on the exercise will be published mid-year and is set to show why loans written through brokers are typically larger, and more likely to be on interest-only terms.
"We are trying to identify critical events in the home-loan journey and how behaviour might be influenced in the home loan process," Mr Saadat said.
ASIC will also report mid-year on a levels of loan application fraud, and the processes in banks and aggregator groups for detecting and responding to fraud and the extent of consumer harm. The increased surveillance comes after the royal commission called for brokers to be paid directly by customers, which has been rejected by both political parties.
"We are focused on this issue because the falsification of loan documents by brokers and lending employees can undermine the responsible lending provisions in the national credit act and lead to consumer harm where borrowers are given loans they are not able to afford," Mr Saadat said.
Open data
ASIC says better quality data will play a more prominent role when customers are assessed for loans. It is revising its 'Regulatory Guide 209' on responsible lending and may conduct public hearings as part of the consultation process.
Mr Saadat suggested the updated guidance may tell banks to use the government's open banking policy, which will allow customers to consent to their spending data to be shared securely, to meet heightened expectations on verification.
"We consider the responsible steps to verify information about the consumer's financial situation will change over time as different forms or sources of verifying information become available or easily accessible," he said. "For example, developments in open banking, comprehensive credit report and data aggregation services will effect the accessibility of consumer data….
"We consider most licensees will generally be able to use such services to obtain their comprehensive information about the consumer's overall financial situation."
ASIC will update its E-Payments code this year, which regulates electronic payments; it hasn't been reviewed since 2010. This will provide more detail on ASIC's expectations on using external data sources.
If customers don't provide consent to use their banking data under open banking, which will begin to be rolled out from July 1 this year, Mr Saadat indicated banks may use "screen scraping" techniques to read account data from customers' other accounts. But he added ASIC recognises problems requesting banking passwords, an issue open banking will overcome.
"Over the medium term, we think developments in open banking will overtake the need for consumers to be disclosing passwords and provide a much more more effective way, with APIs and other technologies, to get information and give consumers control over their data."
Regtech push
ASIC also said on Wednesday it wants to see more use of regulatory technology, which has become a new "strategic priority" in order to ensure the royal commission recommendations are implemented.
"Our view is innovation in the regtech sector has enormous potential to help organisations build a culture of compliance…and to save time and money relating to regulatory matters, while improving compliance most importantly, outcomes for consumers," Mr Saadat said.
He also revealed ASIC is using natural language processing to monitor life insurance sales calls, having used the new technology to review 500 calls in call centres to identify inappropriate techniques, as highlighted by the royal commission.
"Clearly that is a very intensive exercise nad any efficiencies that might arise from using natural language processing would be most welcome," he said.
On the shadow mortgage shopping exercise, he said ASIC was trying to "trying to debunk anecdotal stories you hear about people having trouble to get a loan and being asked to provide their Foxtel bills… we are interested to make sure they are more than just anecdotes and to understand the extent to which these issues are causing concerns for consumers or lenders and whether our RG reflects some of that."