The increasing professionalism of taxi drivers would eventually win out. "We think there is a more professional tone to what we can deliver," he said. "It is a heck of a fight".
Mr Skelton has been at the helm of A2B Ltd, formerly known as Cabcharge, since 2014.
He has undertaken a large modernisation program and invested in technology programs and a rebranding to expand 13cabs to a national brand with more zip and consumer appeal. The national rebranding was now 54 per cent complete, he said. There were 9728 vehicles in the group's fleet, with an age limit slowly being implemented on its taxis.
A2B on Tuesday announced revenues had risen 12 per cent to $101 million for the six months ended December 31, with net profit of $5.5 million compared with a loss $5.1 million a year earlier in a result muddied by restructuring one-offs. It will pay a 4¢ interim dividend on April 30.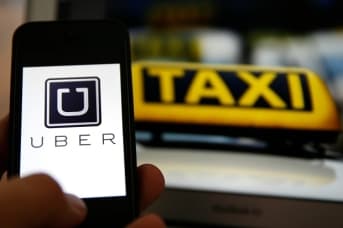 Mr Skelton said the revenue jump was a "fantastic sign": "It demonstrates that our investments in the business are paying off."
There was 1.1 per cent growth in total taxi fares processed through the group's in-car payment terminals to $521 million. This would have been higher if not for an embarrassing Telstra network failure on November 2 and 3, which meant $5 million in fares were unable to be processed.
Mr Skelton said this was "unfortunate timing", with the Derby Day horse-racing event making it one of Melbourne's busiest weekends for taxi trips.
While frustrated drivers had tried hard to find alternative ways to collect payments by asking passengers to use cash, he conceded many drivers had simply headed home with their taxis and parked them in the garage, because of the proliferation of cashless payments that has become ingrained in society.
The group had launched Google Pay in December and Apple Pay in January within the 13cabs app.