The Liberal Party's NSW division met on Friday evening and now just three months away from a federal poll, the gathered office-bearers had one thing on their minds: cold hard cash.
And of the 47 Federal Electoral Conferences in the Premier State, one has oodles of it, and then there's daylight. With $730,000 in the coffers, more than double the nearest FEC, is Warringah. One thing you can't say about Tony Abbott is that he's a lacklustre fundraiser. The bloke even gets his clothes donated.
With the exception of the Sutherland Shire's Cook and Hughes, the Tories' safest seats are Sydney's wealthiest (think Bennelong, Berowra, Bradfield, Mackellar, North Sydney and traditionally Warringah and Wentworth). After spending a nominal $50,000 or so on their own candidates, these "donor" FECs then bankroll campaigns in marginal seats like Banks, Gilmore, Lindsay and Macarthur.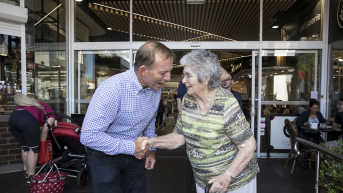 Warringah was Lindsay's donor conference in 2016 but after Fiona Scott voted for Malcolm Turnbull in the 2015 leadership ballot, Abbott yanked her funding, diverting it instead to the Central Coast seat of Dobell. The Libs duly lost Lindsay in two-party preferred terms of 48.9 per cent to Labor's 51.1 percent and Dobell by 45.2 per cent to Labor's 54.8 per cent.
And tough luck for Dobell's Liberals this time around: Abbott is expected to spend almost all of his war chest – whose balance should easily tip $1 million by the time writs are issued in April – fighting off independent Zali Steggall. Which makes a mockery of his claim in Sydney's The Sun-Herald two Sundays back that "the big money in this campaign will certainly be with the independents." And of his private remark about Steggall at dinner with The Australian's Simon Benson in Canberra the previous Monday: "You don't have to be a good candidate when you've got $1 million behind you and good advisers." Abbott's certainly never been accused of consulting any of the latter.
But money ain't everything – just ask Dave Sharma who spent a million bucks losing the Wentworth by-election in October. Nobody hates him and he copped a swing of 19 per cent. Abbott's buffer is only 11.6 per cent. If the voters are done with you or your stripes, it doesn't matter how much crap you stuff in their letterbox.