"The results we are seeing in Sydney and Melbourne are perhaps better than what we might have expected, but we are still in a relatively low auction environment, so it will be very interesting to see if this level of clearance is sustainable," Mr Brogan added.
Well-located but dilapidated houses in Sydney yielded solid results on Saturday with a two-bedroom freestanding house at 32 Denison Road, in the inner west suburb of Lewisham, selling $300,000 above its reserve.
"It was like the old days … the last time I saw something like this was two years ago, both in terms of the number of people there and what is sold for," Richardson & Wrench Newtown selling agent Michael Xanthoudakis said.
"Vendors are more reasonable – expectations were high but now they've come down on par with where the market is. That's why properties are selling, and that also attracts more buyers because they think it's the right time to buy, and more numbers create a better price for the vendors."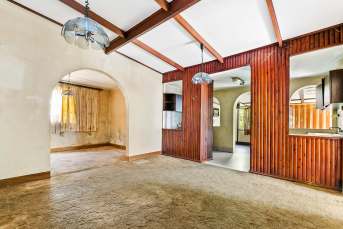 During the campaign, Mr Xanthoudakis issued 30 contracts and on the day 13 people registered to bid. The reserve was set at $1.35 million and it sold for $1.65 million to a family who plan to knock it down and build their dream home.
Across town in Gladesville, on the lower north shore, the "worst house on the best street" sold for $1,495,000 despite being unliveable. While it fell short of its $1.5 million reserve by $5,000, agent Michael Gallina, of Belle Property Hunters Hill said it was "a strong result and proves that even in softening market conditions not all properties have been affected".
'I haven't seen a change from last year'
In Melbourne, buyers are still sitting on their hands, according to Emma Bloom, director at buyer's agency Morrell and Koren, who attended several auctions over the weekend.
"I haven't seen a change from last year," she said. "It is the properties under $1.2 million where there were signs of competition with multiple bidders – first time buyers or investors – but other than that, there were just one or no bidders [at the other auctions]," Ms Bloom said.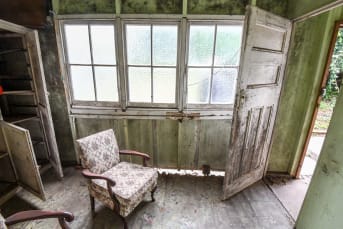 "Agents are leaving long lead times to have time to negotiate with buyers after auctions, and good quality properties will still sell well but it isn't easy."
An elegant well-presented four-bedroom home at 1 Cloverdale Avenue in Toorak, had interest from just one serious bidder on Saturday and another person "hoping for a bargain", Ms Bloom said.
The property was passed in at the highest bid of $3.7 million but later sold, after negotiations, for $4,085,000.
"The auction numbers still look quite weak to me … unreported rates are up and [clearance rate] revisions from the previous week have been revised heavily down," SQM's Louis Christopher said.
"In weaker markets you see unreported rates rise and preliminary figures are masking the weakness in the market," Mr Christopher added.
Access to lending continued to affect the market as did uncertainty around the upcoming federal election and potential changes to property taxes, Mr Christopher said.
"The election is three months away, so it's front and centre of investors' minds right now.
"If the Liberals win the election that could potentially create a bottom in the market, because the threat of a negative gearing repeal is affecting the market. The other event could be APRA putting more pressure on the banks to reduce credit restrictions currently in place and combined with an interest rate cut later in the year, that would also help."