"Before Dale began buying in around 2009, the business was into all sorts of things that in retrospect didn't make sense," Pallas says.
There were Interests in logistics and rail rolling stock that pitted Engenco in self-defeating competition against its main maintenance clients, and follies such as a US-based cryogenics business.
'Essential' wisdom
"We froze that one out … Dale's wisdom was essential in the whole turnaround, because of his experience and his insight into the supply side — but also his patience was amazing," Pallas says.
Engenco's share price was almost $2 when Elphinstone bought his first 35 per cent chunk of the company in June 2010 — it had been $24 just two years earlier — but Pallas says he struck the right balance in cost-cutting even as the shares continued to plummet.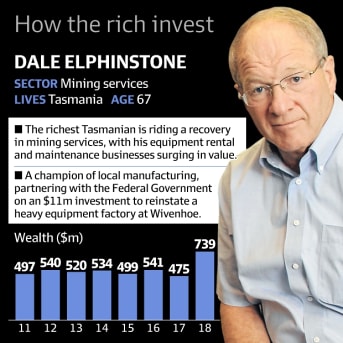 "There was always the concern of keeping morale up as much as we could, giving things a chance to succeed and not pruning the tree so much that the whole thing died … Dale continued to back the company through the whole painful process and I believe he's now above water on his investment, which is very gratifying to me."
Engenco's focus on maintenance comes about partly because its former interests in supplying original equipment manufacturers have dwindled as most Australian heavy equipment factories have closed, Pallas says.
However, Elphinstone's faith and patience are evident here, too; in 2017 he took back control of the Burnie vehicle assembly plant he had sold to Caterpillar in 2000, after the US multinational abandoned it for Thailand, costing 300 local jobs.
Tough road to success
Elphinstone, who declined to comment for this article, would be under no illusion how tough manufacturing in Australia can be.
His Elphinstone Pty Ltd, which uses Caterpillar componentry to build its Haulmax series of trucks, Railmax road-rail excavators and Elphinstone-branded underground support vehicles, has lost more than $4 million a year since at least 2014-15, financial statements show.
However the manufacturing business feeds the highly profitable rental business, and the decision to resume control of Caterpillar's factory, retaining 120 jobs, also chimes with Elphinstone's fierce advocacy for north-western Tasmania.
He recently spent $1.2 million on a scholarship program to train local radiation therapists for a cancer treatment centre in Burnie, and recalled how former premier Lara Giddings had once doubted such a centre could be staffed.
"I challenged Lara and said 'in 1975 we couldn't build underground mining equipment in Burnie and now we have 500 people that can do that, so building and operating a cancer centre didn't pose us with a problem'," Elphinstone told the local Advocate newspaper in January.