Mr Perreault said CSL was excited by "a tremendous amount of strength across the business" and upgraded the company's full-year profit guidance to the "upper end" of the range of $US1.88 billion to $US1.95 billion set last August, an increase of 10 to 14 per cent at constant currencies.
The company raised its interim dividend 8 per cent to US85¢, or about $1.20. It has about 90 per cent of its sales offshore and reports its profits in US dollars, but its shares trade in Australian dollars on the ASX.
Shares shaved
The result was in line with expectations but investors shaved 4 per cent off the shares to $186.09, as hopes by some for an outright increase in the profit guidance went unfulfilled. It was helped by strong sales of its core immunoglobulin and speciality products, which offset weaker sales of haemophilia and albumin products.
Aberdeen Standard Investments Head of Australian Equities Robert Penaloza said the global fund manager was happy to maintain its large overweight position in CSL and ride out any short-term setbacks in emerging markets. Albumin sales were hit by Chinese regulatory delays and reports emerged last week of contaminated plasma samples in China which were not collected by CSL, but could affect confidence in its products in the fast growing market.
"For us it's a long-term investment and a long-term strategy that we'd like to see roll out but we are realistic that it's not a linear game," Mr Penaloza said.
CSL is a global leader in blood plasma and cell-derived treatments for immunodeficiency and bleeding diseases, and one of the largest producers of influenza vaccines.
Mr Perreault said the company had firmed up the outlook based on high demand for core products and confidence in its manufacturing and supply chains.
"A lot of it is execution and we feel much more confident in terms of executing supplying and delivering," Mr Perreault told The Australian Financial Review.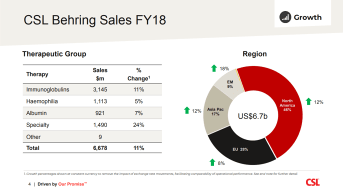 "Clearly it's a momentum we have in the business and clearly the influenza business has done well, so I am pretty confident we'll be somewhere up around the upper end of the range."
Underlying net profit rose 10.1 per cent at constant currencies, on 10.5 per cent higher sales of $US4.4 billion at constant currencies, and earnings per share rose 10 per cent to $US2.56.
CSL's core immunoglobulin products, such as Privigen and Hizentra, treat debilitating immunodeficiency diseases and saw sales increase 14 to 17 per cent at constant currencies.
Transformative
Speciality products also enjoyed strong double-digit sales growth, led by a near tripling in sales of Haegarda, a new treatment for hereditary angioedemoa that reduces attacks – severe swelling of the arms, legs, face and airways – by 95 per cent.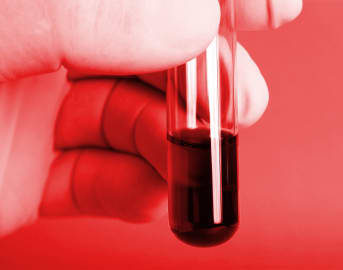 Mr Perreault bills Haegarda as a "transformative" medicine and its success as testament to CSL's string commitment to research , development and commercialisation of new drugs. "If you are innovating in a product patients are going to come," he said.
Kcentra, CSL's anti-bleeding treatment used in surgery, enjoyed a 19 per cent boost in sales. Mr Perreault said the company had worked hard to introduce Kcentra to new markets such as Japan and Asia, wrongfooting observers who foreshadowed slower growth for the product a couple of years ago.
Seqirus, the highly seasonal influenza vaccines business which posted its maiden profit of $US52 million in 2018, enjoyed a 21 per cent increase in half-year constant currency sales to $US957 million, boosted by its quadrivalent cell-based vaccines Flucelvax and Afluria, which inoculate against four flu strains at once.
Seqirus makes all its money in the December half based on northern hemisphere vaccine sales. Mr Perreault said the business – formed by merging CSL's traditional vaccines unit with a vaccines business purchased from Novartis – had progressed faster than the company had indicated "and the numbers are looking quite strong".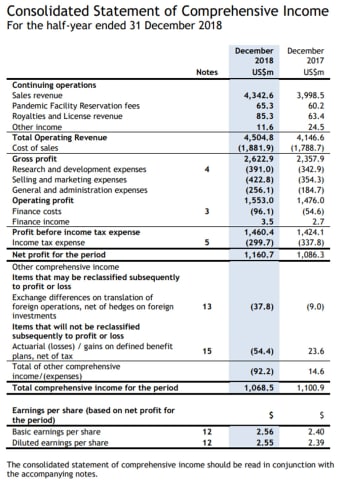 Supply bottlenecks
On a less-bright note, sales of haemophilia treatments declined 2 per cent overall and sales of albumin – a blood plasma derivative used to stem bleeding in trauma victims – retreated 4 per cent because of some supply chain and regulatory bottlenecks. Mr Perreault said.
Within the haemophilia portfolio, sales of Idelvion – a recombinant (manufactured from egg cells) treatment –jumped 55 per cent, but this was offset by some cannibalisation of older plasma-derived treatments as well as some regulatory changes in Europe which held up deliveries.
On the albumin side, CSL is going through a regulatory process to get its Kankakee plant registered to supply its Alburex product to China, which Mr Perreault said was on track but "it takes time".
CSL shares have been on a rollercoaster over the past year, soaring to a high of $230.28 in September – after reporting a bumper 29 per increase in full-year profit and raising the final dividend by the same amount – from $142.07 on February 13, 2018, before succumbing to the global equities malaise in the last few months of the year.
CSL's core business is the separation of human blood into components, known as fractionation, which can be used to treat a range of diseases. Key products include Hizentra, a subcutaneously injected product used by primary immunodeficiency patients, and Privigen, an intravenous product for primary immunodeficiency patients and some autoimmune sufferers.
CSL's main specialty product ranges include Kcentra, which is used in surgery to urgently stop the action of blood thinning drugs like Warfarin, to stem bleeding; and Berinert, a man-made form of a protein that occurs naturally in the blood and helps control inflammation in the body.