With his daughters Kerry and Anne watching on in the crowded House chamber, Mr Shorten praised the train driver, minister and byelection victor, who won his Victorian seat in 1967.
Scholes died on January 9, while MPs enjoyed a summer break ahead of what is certain to become a bitter federal election in less than 100 days.
The first parliamentary sitting day already risked unravelling for Prime Minister Scott Morrison, as the crossbench worked with Labor on a plan to speed up medical evacuations from Australia's offshore processing centres.
The Coalition has thrown everything at stopping a vote on the amended bill, desperately trying to avoid becoming the first government since 1929 to lose a substantive vote on the floor of Parliament.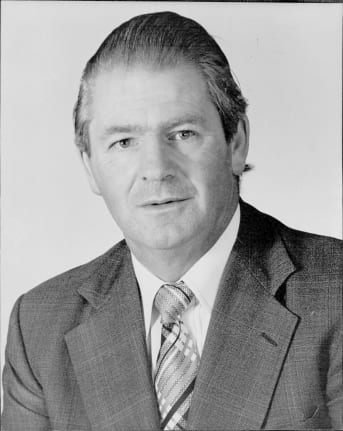 Stunned silence
After an hour of tributes to Australians dealing with historic fires and floods, question time finally began in earnest.
Even the dozens of school children looking on from the public galleries could see Coalition MPs looked more than a little dispirited, perhaps considering the possibility of being relocated to the other side of the chamber in a few months.
Ministers and backbenchers alike tapped their feet, shuffled papers and studied their smartphones as Mr Morrison sought to return serve on Labor's questions, covering the banking royal commission, accusations of running a "part-time Parliament" and exactly why Malcolm Turnbull is no longer the prime minister.
But, as on that famous day more than 40 years ago, the real drama rested with the Speaker.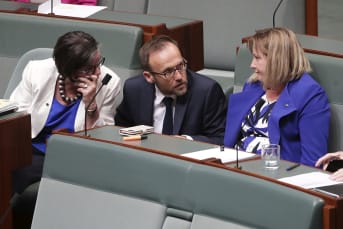 Liberal Tony Smith left colleagues in stunned silence at the end of question time, explaining the government had received advice from the Solicitor-General that suggested amendments passed by the Senate last year risked making the asylum seeker transfer bill unconstitutional, because they involved the spending of public money.
Money bills must originate in the House.
The play did not save the government. Just before 6.20pm it lost a final vote on the medevac bill, losing 75 votes to 74.
Unlike Stanley Melbourne Bruce, Mr Morrison says he plans to ignore the result and won't go to a snap election.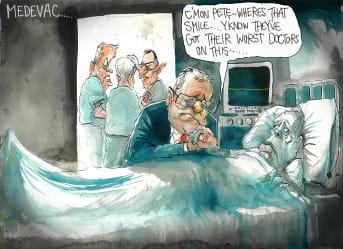 Few expect the Abbott-Turnbull-Morrison government to fall over or for anything resembling the Dismissal to ever repeat in Canberra, but somewhere Gordon Scholes might be smiling as MPs and the press gallery raced to constitutional lawyers once more.