"It doesn't take much for people to flick back to some of the constructs of the past. When you look back at some of the past – I'm thinking the Keating-Mahathir thing, partly there were a range of reasons for that. Partly it was also a response to being perceived as being lectured by us.
"There are times when we forget that some of the narrative particularly from those with some remembered history, some known history, when we speak and engage with some of the countries of south-east Asia, you have to remember that is the narrative of history and you have to work against that to build a more constructive relationship now.
"It's not so much that I personally build more credibility, but that the country would choose me says something about us."
Growing push-back
Wong was appointed Labor's foreign affairs spokeswoman after the 2016 election. It's been a period marked by upheaval – the initial shock and ongoing turmoil of Brexit, the unexpected election of Donald Trump, the increasing assertiveness of China and growing push-back from Western nations.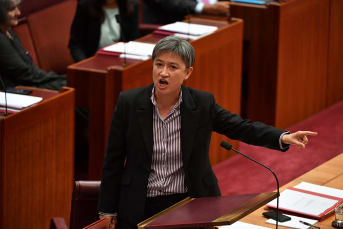 In that time, Canberra has found itself in the middle as it tries to strike the balance between being a loyal security ally of the US, and the economic ties with the nation's biggest trading partner, China.
Australian Strategic Policy Institute executive director Peter Jennings says it is the most turbulent time to be foreign minister since the mid-1960s, when Australia entered the war in Vietnam and engaged in the Indonesian confrontation.
"It feels to me we're on the brink of those times. It is the hardest we've seen it for a couple of generations," Jennings says.
Wong says the central challenge Australia and other like-minded liberal democracies have to grapple with is defending the international rules-based order – the system of laws, treaties, tribunals and institutions to emerge from the ashes of World War II that have by and large managed disputes and underpinned global peace and prosperity since that time.
"We've got an interest, given who we are, in an international order that is predicated on rules and conventions and where countries work together, and that is challenging at this time," she says.
"What do we have to do? We have to ensure that our diplomatic and economic efforts across the board are focused on that. We have to engage with the region more deeply."
While Labor is seen by some observers as less hostile to Beijing than the Coalition, Wong is clear-eyed about China's behaviour under Xi Jinping and anticipates that difficulties will intensify and get harder to manage in the future.
"I think the Canadian events [the arrest of two Canadians and sentencing to death of a Canadian drug smuggler in China] demonstrate that," she says.
"I understand China has a desire and legitimate aspiration to reflect its standing among nations. China does have a legitimate right to be a law maker as well as a law taker, but we want those rules to be negotiated."
Damaged relations
Wong criticises how the Turnbull government needlessly damaged relations with China through a series of own goals, such as Malcolm Turnbull invoking Chairman Mao at the height of the debate over foreign interference and Barnaby Joyce suggesting China was a bigger security threat to Australians than Islamic State.
She promises Labor will adopt a more "sophisticated" approach to China, describing it as one of convergence and divergence.
"We should be clear about where we can work together and we should put a deal of energy into ensuring those areas of convergence are maximised," she says, citing trade as the most obvious example, as well as a mutual interest in regional stability.
Acknowledging there are areas of divergence, such as different political systems and different views on values like the rule of law, Wong insists a Shorten Labor government won't be afraid to call out China at times. That includes the South China Sea and treatment of the ethnic minority Uighurs.
"We should be clear about those areas where we don't agree and we should be willing to articulate that, at times if appropriate publicly and at times if appropriate privately," she says.
Asked how Australia can stand up to a superpower like China, Wong concedes there are limitations.
"I don't front up as the potential foreign minister to the Australian people and say the Australian government can make everything go well in the region and resolve every dispute," she says.
"We should focus on what we can and do our best."
Wong all but shut the door on any hope from Chinese telecommunications giant Huawei that a change of government could see the ban on its participation in the roll-out of the 5G network, saying "We will always take the advice of our security agencies".
While restating concerns that Australia cannot win from a trade war between China and the US, she doesn't criticise US President Donald Trump for taking on China over intellectual property theft.
"I think it is in his right to call out breaches of trading and financial arrangements which don't accord with international laws and norms," she says.
"There is a lot of stuff in the public arena which makes some of the concerns understandable. Where we would differ [to the US] is how you deal with this."
Deft diplomatic footwork
Wong dismisses the notion that Shorten's 2016 description of Trump as "barking mad" will require some deft diplomatic footwork with the President, who puts much stock in personal connections, if Labor wins.
She argues the bonds between Australia and the US transcend personalities. "There are issues on which we should be willing to say 'You are our friend and ally and as a friend and ally, we don't believe this is in our interest or frankly in your interest'."
Wong maintains engagement with the US is crucial as America remains the "indispensable" nation for stability in the Indo-Pacific, although acknowledging the anxiety Trump has caused she indicates Labor will continue the strategy outlined in the 2017 foreign policy white paper, which sees Australia look to "hedge" by forging tighter ties with like-minded neighbours.
"I think we should work with different groupings, both bilaterally and plura-laterally in the region around particular issues where they can contribute to the sort of region [we aspire to]," she says, nominating the South China Sea as one where Indonesia and Vietnam both share an interest with Australia in preserving the rule of the sea.
Despite the strategic tensions between China and the US, Wong believes the most immediate regional threat is North Korea. With Trump to meet Kim Jong-un in Vietnam later this month, Wong says the hard line against Pyongyang must be maintained.
She shares the view of many analysts who doubt Kim's intention to give up his nuclear weapons. "There have been a lot of statements made by various North Korean leaders over the years but the proof is always in the actions," she says. "Any relaxation of sanctions against North Korea can only occur in concert with other nations and because the requisite action had been undertaken by the North Korean regime."
Wong, who frequently during the interview looks at a world map on the wall of her office as she articulates her points, says she wants to think of Australia as a "substantial power", bristling at the more common phrase that we are a "middle power".
"I think it's a descriptor but do we want to be middling? We are better than middling."