"One of the things that has been raised is you could set up a new institution to be a public default fund."
"The Future Fund could be of assistance to a public default fund in working out asset allocation or recommending [investment] managers or maybe even having a wholesale role."
To avoid the proliferation of unintended multiple accounts and duplicate fees eating into super balances, Royal commissioner Kenneth Hayne recommended a person should have a single default account that is "stapled" to them for their working career.
Mr Costello, a former Liberal federal treasurer between 1996 and 2007, said "one of the obvious ways" to achieve that was a "government default fund".
"This is not to say people can't have choice," Mr Costello said.
"In other countries of course the money does go to public or government default funds."
"So that's an idea I've put forward. I don't know whether the government will find it attractive or not."
Mr Costello is chairman of Nine, owner of The Australian Financial Review.
The Future Fund, founded by Mr Costello as treasurer in 2006, invests for the government to cover the unfunded cost of pensions for public servants.
Labor opposes government default fund
Labor, retail and industry superannuation funds all oppose a government default fund. Labor and trade unions want to keep the $595 billion default superannuation market within the industrial relations system.
Inside private deliberations in the Morrison government, it is understood Treasurer Josh Frydenberg has been considering a government default fund as an option in responding to the Hayne commission and the Productivity Commission report into super efficiency and competition.
Finance Minister Mathias Cormann has long opposed the Future Fund "nationalising" super. He helped the Turnbull cabinet block a push by then-superannuation minister Kelly O'Dwyer before last May's federal budget for the government to pay about $3 million for a business case to evaluate the sovereign wealth fund being opened up to manage people's super.
Backbencher Tim Wilson, chairman of the House Economics Committee, has publicly backed a government default fund.
The Productivity Commission said a government-owned fund should not be precluded from being an option that new workers could be nudged towards on a "best in show" shortlist of 10 top performing funds, chosen by an expert panel appointed by financial regulators.
The commission rejected a government "monopoly" fund that all workers would be automatically defaulted into if they didn't choose a fund.
Industry super to overtake SMSFs
A potential existing government entity is the Commonwealth Superannuation Corporation, which manages $47 billion in super for federal public servants and defence force personnel.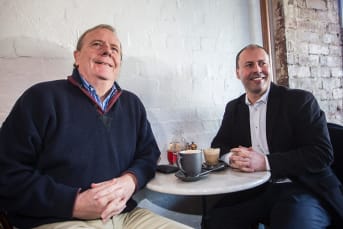 Shadow treasurer Chris Bowen has accused the Coalition government of wanting to undermine non-for-profit union and employer aligned industry funds, which are receiving massive fund inflows following damning revelations about underperformance and high fees charged by for-profit retail funds.
Industry superannuation funds are on track to overtake SMSFs to become the dominant players in the retirement savings system within the next two years and are poised to top $1 trillion by 2024, according to financial consultancy, Rice Warner.
Liberals are worried the weight of money shifting to industry funds will provide unions – and by extension the Labor Party – with board seats, economic power and money.
While a government-owned fund appears at odds with the stated free-market ideology of the Liberal Party, because superannuation is government-compelled and some funds are delivering poor returns for members, some on the conservative side of politics believe a low-cost and credible government injection of competition is warranted.
Sweden set up a government-owned default scheme in 1999 for individuals who did not choose a fund. Initially about 70 per cent of new savers joined the fund, but by 2011 nearly all new savers defaulted into it.
'My personal view'
Mr Costello in 2017 expressed public support for the government playing a more active role in managing superannuation in a more cost-efficient way than industry and retail funds.
"This is my personal view: instead of the government arbitrating between industry funds and private funds, there is a fair argument that compulsory payments, the so-called default payments, should be allocated to a national safety net administrator, let's call it the Super Guarantee Agency," he said in October 2017.
"It would be a not-for-profit agency which would set up its own investment board like the Canadian pension plan," he said, arguing there would be "huge economies of scale" in the new agency.
The Future Fund's original main fund to cover public servant pension liabilities has grown to $147 billion.
The Future Fund also invests the assets of four other special purpose public asset funds; the $14.4 billion DisabilityCare Australia Fund, the $9.4 billion Medical Research Future Fund, the $3.9 billion Education Investment Fund and the $3.9 billion Building Australia Fund.
Mr Costello noted that on February 1 the Future Fund took on management of the Aboriginal and Torres Strait Islander Land and Sea Future Fund, established with a capital contribution of $2 billion transferred from the Aboriginal and Torres Strait Islander Land Account.
"It has multiple funds working to different mandates, with different returns," Mr Costello said.