Coincidence, not conspiracy, had ANZ chief Shayne Elliott spruiking copies of the Big Issue below the bank's Docklands headquarters on Monday.
At least, that's what his spinners insist. Seems the date's been in Elliott's diary for six months, long before he knew when the government would pass on Kenneth Hayne's report to the public. And despite the eyebrows raised by having him raising funds for the homeless on this of all days, could you imagine the headlines if anyone had caught him cancelling?
It must have been a relatively pleasant distraction from the agony of waiting on the report. Bankers across the country spent the day on tenterhooks. Apart from those at the nation's largest bank, who courtesy of ASIC had a fresh "fees for no service" crisis to deal with.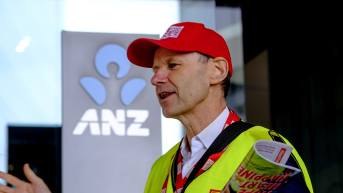 Elliott refused to answer the questions of the journalists who rushed to the photo-opp, but he did sell all 60 copies he'd been provided (up from the 55 he sold last year). At $9 a pop, that's $540 raised, which, for Elliot, must be the of the least productive use of his time since he did this last year. Though all for a good cause.
BHP's Andrew Mackenzie and Telstra's Andy Penn will take their turns selling copies this week as part of the charity's annual event.
In other matters Royal Commission, Elliott wasn't the only one not to factor it into his forward planing. APRA deputy chair Helen Rowell, who oversees the superannuation sector for the regulator, is currently on annual leave. We hear an overseas trip was organised months before the date of the report's release was known.