Fertile for a victim message
As Victoria's 6 per cent anti-Liberal swing demonstrated in November, the Coalition is going backwards, even in opposition.
In NSW, which votes on March 23, the Liberal and Nationals hold six seats by 3.2 per cent or less. All except one – the almond-milk-latte beach seat of Coogee – is in an outer suburban or country region fertile for Mr Latham's victim message.
The government rules by five seats. A statewide poll this week put One Nation's support at 6 per cent, enough to get Latham elected to the upper house, and put a nasty dent in Coalition support, which is running even with Labor.
Leading a party that taps into Australians' latent racism, Latham is whitewashing One Nation in NSW. While famous founder Pauline Hanson rants about vaccines for a diseased Islam, Latham coos about "Australian values". Education, urban planning and transport are his touchstones.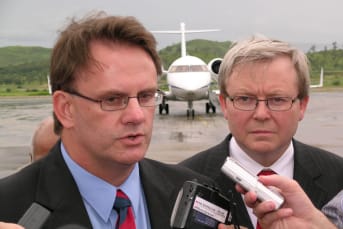 Dangerously sane
The atmosphere at this week's launch felt like any country Labor or Liberal gathering. Thirty-five neatly dressed supporters listened politely. One even wore a red Labor T-shirt. (Turned out he was a spy: the elderly husband of the Labor candidate, former senator Ursula Stephens.)
Asked about immigration, Latham played up "white flight" in Sydney's western suburbs from immigration-driven congestion. There was no explicit Muslim baiting. The issue is electoral gold for Latham, and so potent that Berejiklian is ignoring business pleas for more labour and retreating towards the One Nation position.
Latham's candidates seem dangerously sane. The would-be One Nation member for Goulburn, Richard Orchard, 49, sings in a church choir and worked in administration at the local jail, which a town official described as "an important part of the local economy". Indeed, one of the municipal threats is the state's declining prison population.
Disgruntled Liberals
Orchard quit the Liberal Party a few weeks ago after it refused to hold a local preselection. He wanted to run but Goward slotted her own woman in.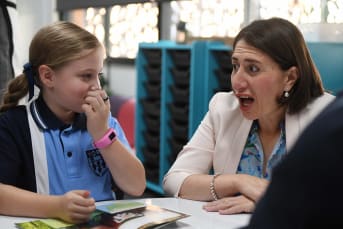 Demonstrating that a few Labor Party lessons stuck, Latham picked up Orchard and a couple of other disgruntled Liberals to run One Nation's local campaign.
The weirdest thing Orchard said – apart from declaring he didn't want to be a well-paid government minister – was to threaten what sounded like a witch burning outside Berejiklian's office.
"If we need to descend on Parliament with torches and pitchforks, we'll do it," he told supporters at the Tattersalls Hotel on Wednesday.
The pub is on Goulburn's main thoroughfare, which used to be the road from Sydney to Canberra. Latham left Canberra 14 years ago, and wants to return in triumph to Sydney, where he sees a chance of holding the balance of power in the upper house and lording it over his enemies, whom he is adroit at recruiting.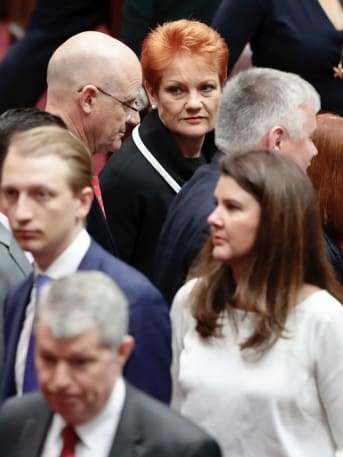 Thrown out of the mall
One Nation has no chance of winning lower house seats in NSW. But the more candidates labouring for Latham, the easier it will be for him to fill a 4.55 per cent quota needed for an upper house seat.
No one expects the experiment to end well. Every One Nation effort to expand beyond a rump around Hanson has been defeated by opportunism, rivalry and hatred.
In NSW, the party last won a seat 20 years ago. Another major-party refugee, David Oldfield, slept with Hanson, according to her, took 6 per cent of the vote in '99, was expelled by her a year later for disloyalty, took control of the One Nation brand, and didn't recontest after eight cruisy years in the Legislative Council.
Now in the Senate, Hanson outlasted Oldfield and all the other party founders. She might even survive in politics longer than Tony Abbott, who helped put her in jail.
Latham suggested Hanson will make a personal appearance in the state election, allowing both to demonstrate their awkward personal chemistry in public.
Given another shot in another party, Angry Mark has been replaced by Mark Next Door. Walking the streets of Goulburn for the benefit of a television crew, he homed in on blue singlets and high-vis vests. Before he was eventually thrown out of a shopping centre, the reception was country polite.
Under the surface, though, the defender of Australian values wasn't necessarily welcomed. "You can go hang yourself," muttered one women as she walked away from a Latham handshake.
Come the end of March, Latham intends to be the hangman. Not just Labor's great failed hope.