But Ms Cicuttini said obesity, one of the biggest health problems in Western countries, and now in developing countries, was "all about calorie intake but breakfast has this mythical standing in the community".
Professor Cicuttini led a systematic review, published in the British Medical Journal on Friday, of 11 randomised trials that investigated the impact of skipping breakfast on weight and metabolic rate.
"What we found was that the people in the breakfast group invariably ate 260 calories a day more and they tended to gain weight." And 260 calories, equal to a blueberry muffin or a 50-minute walk, is "not insignificant".
Evidence is also growing that restricting when you eat and giving the body a break from food can help some people lose weight.
The 5:2 diet guru Michael Mosley tries not to eat within an hour of waking. His new book the Fast 800 recommends restricting eating to a 10-hour window, so as to switch the body into fat burning mode.
"Most of us, we rarely go more than 12 hours without eating. We are designed to run on fat but most of us never get into that state because we are constantly eating and constantly eating a lot of carby stuff," Dr Mosley said.
The Fast 800 also advocates the benefits of a period of rapid weight loss achieved by eating 800 calories a day, as part of a periodic fasting regime to prevent the onset of diabetes, cancer and dementia.
Associate professor Neale Cohen, the director of clinical diabetes at the Baker Heart and Diabetes Institute, would like to see more long-term trials about whether people who do crash diets manage to keep the weight off. "Our experience in the real world that these things do not work long-term."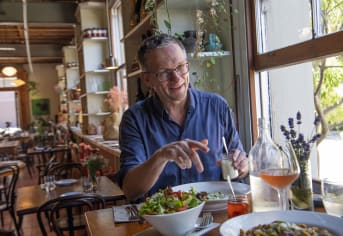 Peter Clifton, adjunct professor of nutrition at the University of South Australia said 800 calorie diets, as a treatment for type-2 diabetes, have been round for 30 or 40 years and 50 per cent of people keep the weight off after five years.
"There's nothing new about it. If someone has just presented with type 2 diabetes, losing weight will work better than any drug."
Professor Clifton said what was novel about the new wave of studies was their focus on people with an early diabetes diagnosis where remission rates can be "pretty close to 100 per cent".
Experts do seem to agree on one other diet myth: exercise.
Professor Cicuittini said the "very tight link" between exercise and weight loss was a "total myth. It's almost giving people permission to fail. Weight loss is about what you eat. Exercise is about health and feeling better."
Professor Cohen agreed: "Exercise is almost useless for weight loss. But it's important for the body."