After several longnecks of Asahi, Maddie is flagging, so next it's to Next Health for an intravenous hit of vitamins. For good measure, I throw her in the cryotherapy chamber for a light frosting, Han Solo style. Peak LA.
The afternoon turns aqueous, as we drink in all the sights: the Polo Lounge, the Chateau, Fred's, Soho House. By dinnertime, it's garrulous. Mrs A is visibly unimpressed when she returns from work to discover two steaming siblings conversing in a foreign language.
Still, we keep our reservation at Craig's. A pack of paparazzi fixes on our Benz as it draws into the entrance, but our disembarkation doesn't, cruelly, trouble their shutters. Inside, they're playing Madman on the Water.
Once a fool had a good part in the play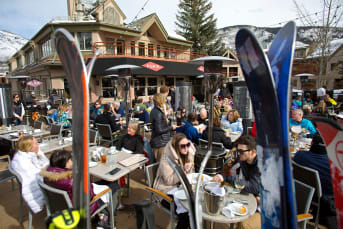 If it's so would I still be here today?
We're seated in a booth between Larry King and Kate Bosworth. Maddie orders the dirtiest martini I've ever seen and soon thereafter is rendered uncommunicative. I loudly intone whichever words come to me, and in that order. Mrs A is appalled.
We rise the next day at noon, and gingerly commute west down Wilshire to Honor Bar in Beverly Hills. Maddie – still mute – orders a Bloody Mary; after a trial sip, she stampedes for the restroom. Mrs A's gimlet eye bores into me over her green tea.
Madeline returns, passing Cleveland Cavalier Tristan Thompson en route. "Too much horse radish," she adjudicates, finding her voice. "Retch and recover." Beat. "Family motto."
Somewhat precipitously, Mrs A departs for a long-standing appointment. Changing tack, Maddie murders two screwdrivers and we set off for LAX.
Our Uber is an AMG-specced G-wagon and its driver is a Russian maniac, swerving around any obstacle at breakneck pace. On the dash is mounted a leather Louis Vuitton gimp mask. Ambivalently, my sister asks its meaning and purpose. "I use this only after 10pm. You are cool with that?" Casseroled in disbelief, I fasten my seatbelt.
Our clan isn't fabled for its athleticism, and unsurprisingly, on her first visit to the snow, Maddie shares my preoccupation with the righteous artform of après-skiing: Schlomo's for matzo ball soup and mulled wine, where I wave airily at Maxine Brenner. Stavros thuds past in full regalia, fresh off Ajax. "Just a dozen runs, son. Now off to the gym."
Adequately guilted, I settle up and make it over to the ticket office. "Hey, goose! Let's f—ing do this!"
"Ah, just two tickets to the top, thanks – on the gondola."
The guy is a dead ringer for the stoner at the copymat in Jerry Maguire, but markedly more envigoured. "Yes, yes! Look at that. This is the perfect day to propose."
"To his sister?"
"Yeah, we're not from Kentucky".
"Next!"
Of all the times I've been to Aspen I've never done this, and the view over and away from town is extraordinary, the ascent seemingly unending. At the top, after a cursory gawp into the middle distance, Maddie beelines to the bar. "Moscow Mule?"
I can barely breathe and my ears are ringing cacophonously. I about turn and board the next car.
On the way down, face in hands, glum consideration of life after Australia Day: visiting home in a heatwave, then the toil of a discourse bothered with Gillette commercials; a year set in motion by a nothing CES, a nothing Davos and an Oscars genuflecting before superhero flicks. The End of Days can't be far.