"Federer, for example, took the clay court season off because he can, he's at the point now where he has enough points to maintain his ranking so he can pick and choose when he plays."
Mr Brandham, who now runs his own physio business Evolve Physio Group, has worked with top 20 players Milos Raonic and Tomas Berdych.
Record high levels of prize money and endorsements mean more players can afford to travel with an extensive entourage. This makes the tour less lonely than it might have once have been.
"Those top tier players mostly travel with their own team, consisting of a physio, sometimes a fitness person – there's a team mentality instead of how it used to be in terms of just an individual going on tour," he said.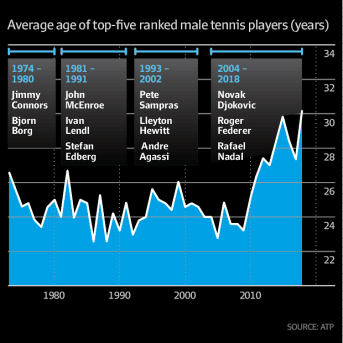 "It has grown in popularity, in 2008 only five to 10 players had the resources to do it. Every year, more and more guys travel with their own teams," Mr Brandham said.
"A lot of federations put resources into that. Tennis Australia has three or four physio's that tour with Aussies, which is centred around the Grand Slams. The French, US, English and Spanish all have similar programs."
Elder statesmen like Djokovic, Nadal, Federer and Del Potro have also changed their training regimes in order to stay competitive. Djokovic, the current world number 1, uses yoga and meditation to assist with his mental game and sticks to a largely vegan diet.
Nadal, who in his early to mid 20s would spend hours in intense training regimes, has responded to a recurring knee injury by managing down his level of training.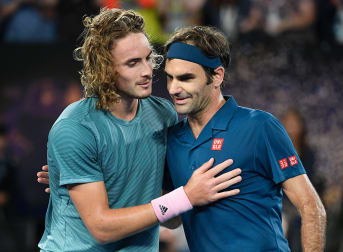 With Edmund Tadros
See afr.com for a full list of the top 5 players from 1973-2018.