A package of measures designed to protect low-balance super accounts from fee erosion is already before federal Parliament but Labor refuses to support them because the party disagrees with insurance being made non-compulsory for under 25s.
Labor says it wants to protect young workers in dangerous jobs by ensuring they get insurance cover by default rather than on an opt-in basis.
Labor's priorities
Mr Bowen signalled that strengthening the so-called "member outcomes test" for super funds and enforcement of the rules by the Australian Prudential Regulation Authority could be a top priority for Labor.
"I'd be pretty confident in saying the powers [for APRA] would need to be enhanced," Mr Bowen said.
Labor will announce its formal response to the Productivity Commission's superannuation report and the royal commission, after Kenneth Hayne hands his findings to the government by February 1.
Asked if Labor would confront underperforming union-aligned industry funds, Mr Bowen said Labor would seek to apply any new rules equally across the sector, whether funds were retail or not-for-profit industry funds.
"The preferred position should be if you're going to enhance member outcomes it should apply to as broad a set of circumstance as possible," he said.
"The members outcomes stuff, including the enhanced member outcomes, that's pretty much in keeping with what I said, regardless of the structure of the fund or the sector that the fund's in, poor performing funds should be dealt with."
"That, combined with if you're not going to amalgamate and you're a small fund, you've got to explain why not, that is something that should be explored."
Treasurer Josh Frydenberg has repeatedly slammed Labor for holding up the government's Protecting Your Super legislation in the Senate, which seeks automatic consolidation of low-balance inactive accounts, caps on fees, tougher penalties for trustees and to prevent insurance premiums eroding account balances.
Mr Bowen accused the government of being "disingenuous" in its criticisms and avoiding bringing on the bill for a vote.
"I get the principle. I'm sympathetic to the objectives. I think there [are] unintended consequences in the way they've done it particularly for people in high-risk occupations."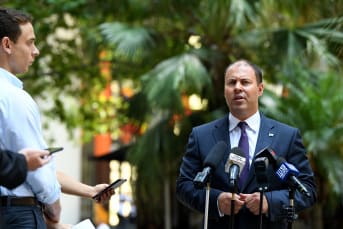 Labor and the industry want to retain default insurance for younger workers in high-risk physical jobs where they could be injured.
Mr Bowen also pointed to a Productivity Commission recommendation, arguing where a fund could demonstrate that it used bargaining power to get a good insurance deal in a member's best interests, insurance could remain opt-out.
"That's not reflected in the legislation at the moment, it's a one size fits all," he said.
"It is doable if the government stopped being political and tried to strike an arrangement in good faith."
Mr Bowen reiterated concerns about the commission's recommendation to shift to a "best-in-show" shortlist of top 10 performing default funds selected by a panel of experts appointed by government regulators.
He said it could reduce competition and have unintended consequences, because past performance was no guarantee of future investment returns.
Most of the industry has criticised the best-in-show model.