The more defensive sectors of the market had another strong week as investors sought out safe-haven assets. The price of gold has enjoyed a strong start to the year, as gold futures rose to their highest level since June, amid volatility in the equity and currency markets. Newcrest Mining climbed 7.9 per cent to $23.53 this week, Evolution Mining rose 5.7 per cent to $3.90, Northern Star Resources climbed 5.1 per cent to $9.71, Saracen Minerals advanced 8.2 per cent to $3.17 and St Barbara closed 6.2 per cent higher at $4.99.
GP clinic and pathology centre owner Healius received a $2 billion takeover offer from China's Jangho Group, with the offer worth $3.25 a share. Jangho is already the company's largest shareholder and controls 15.93 per cent of the company. News of the takeover may have leaked to the market early, with the company's share price soaring a day before the offer was announced. Healius shares closed the week 23.3 per cent higher at $2.75.
​Pilbara Minerals closed the week 12.8 per cent higher at 70.5¢ after it announced it had secured $231 million worth of expansion funding from Chinese backers and separately announced it had signed a memorandum of understanding with South Korean steel giant POSCO to pursue a joint venture in chemical conversion.
Stock watch
ResMed
Morgan Stanley said Resmed remains its preference in the healthcare space over Cochlear and CSL, citing strong growth and operating strategy. The broker retained its overweight rating on the stock and lifted its price target from $16.80 to $17.70. Analyst Sean Laaman said against a slower 2018-19 earnings per share growth environment, he expected higher-growth offshore earners like Resmed, CSL and Cochlear to perform well despite their lofty valuations. He cited Resmed's "double-digit top-line growth, ongoing operating leverage [and] growth in data-driven strategy" as strong reasons to back the company's continued performance. In the same note, the broker warned investors to avoid hospital stocks. Resmed sells medical equipment related to the treatment of sleep-related breathing disorders.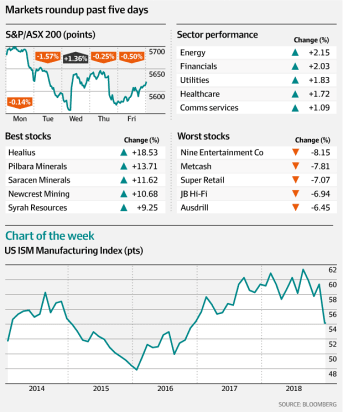 What moved the market
US ISM Manufacturing
The Institute for Supply Management's manufacturing index fell to 54.1 during December, surprising the market who had been expecting a print of 57.5. The poor result was driven primary by the New Orders sub-index which fell from 62.1 in November to 51.1 in December. "As our friends at Pantheon Economics astutely note, the fall in the main index closely mirrors the sharp weakness recently seen in the equivalent China PMI import sub-index," said NAB's head of FX strategy Ray Attrill. "This is more proof, if needed, that President Trump's trade actions against China are now hurting the US as much as they are China."
Brent crude
Brent crude rose for a fourth consecutive session on Thursday, the first time it has done so since mid-November, as investors become slightly more optimistic over the future on the commodity. Analysts are tipping that cuts by OPEC and its allies will be enough to offset increasing US crude output and weaker global demand, and push the price of oil higher. On Friday however, ratings agency Standard & Poor's trimmed its forecasts for the price of Brent crude for 2019 and 2020 to $US55 a barrel, from $US65 and $US60 respectively.
British pound
The British pound wasn't immune to the currency "flash crash" on Thursday, hitting a 16-month low against the US dollar during early Asian trade. The pound, which is currently trading close to its weakest this year, fell as much as 1.5 per cent in just a few minutes on Thursday triggered by massive stop-loss sales in Japan's yen. That pushed the pound to its lowest level since April 2017 however it recovered later in the session. The flash crash comes in the midst of continued uncertainty over a potential Brexit deal and reduced expectations the Bank of England will hike interest rates in 2019.
Car sales
Australian car sales fell during December, capping off the worst year for vehicle sales since 2014 as more than 35,000 fewer cars were sold during 2018. The figures for December were particularly bad, with national vehicle sales for the month 14.9 per cent lower than in December 2017, with sales in Holdens and Fords continuing to soften. Holden sales fell by close to 30,000 in 2018 while Ford lost 9,000 sales. "New vehicle sales results in 2018 reflect a challenging climate across the Australian economy including a slowing housing market, tightening of money-lending, and the drought," said Federal Chamber of Automotive Industry chief Tony Weber.