The votes were carried by unanimous consent.
The ambassador's position in Canberra has been vacant for two years.
Chargé d'affaires James Carouso has been acting in the role since Barack Obama's pick for ambassador John Berry left in September 2016.
Mr Culvahouse, who vetted Vice President Mike Pence for the Trump campaign, was first put forward by Mr Trump in November.
He also oversaw the vetting process that led to Alaska governor Sarah Palin's pick to become John McCain running mate in 2008.
Last month Mr Culvahouse vowed to publicly call out attempts by an "aggressive" China to drive a wedge between the United States and Australia if confirmed.
He told the Senate he intended to support the so-called "quad" initiative – a grouping of the US, Australia, Japan and India to counter China's growing heft in the region.
As part of his nomination, the 70-year-old reported earning $US1.7 million in the past two years for work advising Trump administration officials and large corporate clients.
In financial disclosure forms made public by the committee, he reported providing legal services to US Commerce Secretary Wilbur Ross, US Securities and Exchange Commission chairman Jay Clayton and billionaire financier Stephen A. Feinberg.
Mr Culvahouse has recently represented companies including Exxon Mobile, Ford and Goldman Sachs and will resign from positions with think tank the Brookings Institution, the University of Tennessee and the US Chamber of Commerce to take up the job.
As White House counsel, he advised Mr Reagan during the probe into the Iran-Contra scandal and assisted the Watergate investigation when working as a congressional aide to US Senator Howard Baker.
Australia is the only advanced economy of its size to have not had a Trump appointee in place.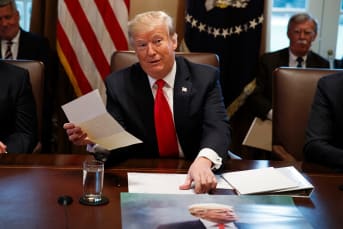 Former head of US Pacific Command Harry Harris was nominated but in April was later diverted to South Korea as Mr Trump sought a nuclear disarmament deal with Pyongyang.
The Canberra ambassadorship is traditionally reserved for a personal pick of the president.