Anticipating a business backlash, Mr Shorten countered, saying with wages growth flat and job insecurity high, "a political party without a wages policy is horribly out of touch".
"Out of touch with the real world. Out of touch with the real people," he said.
The most contentious change will be the re-introduction of pattern bargaining, or industry specific collective bargaining, in the private sector and multi-agency bargaining across the public sector.
'Perverse incentive'
The union movement wanted pattern bargaining, in which an entire sector would negotiate as a whole, to be made economy-wide but the party platform and the Opposition emphasises a focus on low-paid sectors such as child care, cleaning and security.
"Enterprise bargaining, in its current form, is simply not doing the job for wages in this country," Mr Shorten said.
"It doesn't work for funded services. It doesn't work for people who have little or no bargaining power.
"It doesn't work for people at the end or the bottom of the supply chain. It doesn't work for labour hire and casual workers."
The Business Council of Australia has already spoken against a return to pattern bargaining, saying it was designed for a workforce and economy which no longer exists. On Tuesday, the Australian Chamber of Commerce and Industry, added its concerns.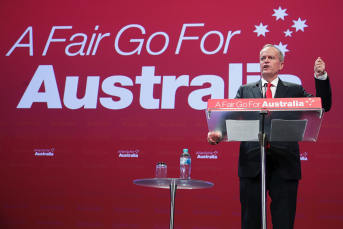 "Australia should be trying to fix problems in the enterprise bargaining system, not go back to industry bargaining, which big unions will flock to because it will be easier and cheaper for them," said ACCI chief executive officer James Pearson.
"There should not be a perverse incentive for big unions to prolong bargaining needlessly and manipulate the bargaining process, seeking the reward of arbitration.
"If Labor is to consider industry bargaining, it needs to explain how it will prevent bad bargaining behaviours."
Plans 'threaten' businesses
Ai Group chief executive Inness Willox, who has also been warring against pattern bargaining, was alarmed that the conference had not specifically ruled out extending it across the whole economy.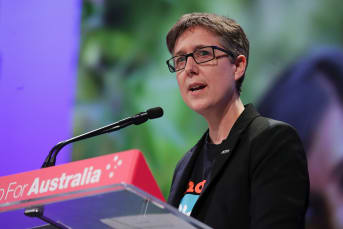 "Industry is alarmed that Labor has not ruled out industry bargaining across all industries, nor industry-wide strike action in pursuit of industry agreements," he said.
"All Australian businesses would be at risk of disproportionate union claims should the bargaining policies announced today be implemented. They would threaten the existence of businesses and the livelihoods of their employees.
"Labor needs to urgently clarify if the proposals are just for the low-paid stream or the economy as a whole because as things stand they have left the door open to rampant industrial disputation across the entire Australian economy."
The platform says: "The Fair Work Act has not adequately facilitated multi-employer collective bargaining. This is a particular issue for those industries where employees are low paid and where they lack industrial power."
But with Labor the favourite to win the election, sector-specific industry leaders were loath to publicly criticise the policy proposals, but privately, were concerned.
One childcare industry executive said wages were the single biggest cost to operators. If they rose, then the costs to parents using those centres may also eventually rise.
"It is the most significant cost we have," they said.
Another childcare executive concurred but did not want to speak publicly because it was such a sensitive issue.
'Blank cheque' for unions
Last week, Labor's industrial relations spokesman Brendan O'Connor said he would consider a right to strike provision as part of the pattern bargaining rules, meaning a whole sector could go out during a wage negotiation.
Industrial Relations Minister Kelly O'Dwyer said Labor's policies "would crush the hopes and aspirations of the Australian people".
She said the "blank cheque" given to the unions on pattern bargaining "would cripple small businesses".
"This would see small businesses crushed, it will also see essential services shut down."
Mr Shorten acknowledged the economy and the nature of work had changed over the decades and stressed that his pledge to work with all stakeholders on the policy platform was "not simply a re-run of the Hawke-Keating Accord".
"Now there are lessons that we can, and we should, learn from that dynamic time," he said.
"One lesson is co-operation, consensus, working together, talking to each other. Getting people of different views in the same room, around the same table – that is the spirit in which we will approach our wages policy.
"We can draw upon these two lessons, a wages policy and bringing people together but, what I understand is that we can not turn back the clock to 1983. We live in a very different economy in a very different time."
ACTU congratulates Shorten
Mr Shorten was scathing of the Registered Organisations Commission, which the Turnbull government established and then had it investigate unions donations that were made when Mr Shorten led the Australian Workers Union.
"This is Australia, not a tin pot dictatorship. And that is why we will abolish the ABCC and the Registered Organisations Commission," he said.
"We will focus our industrial relations laws to protect workers' safety and their rights, not to create conflict, not to pursue vendettas and not to stage police raids for the benefit of TV cameras."
ACTU secretary Sally McManus congratulated Mr Shorten, suggesting the union movement will settle for pattern bargaining for the low paid only.