Shayne Elliott, ANZ – At ANZ, 30 per cent of trade transaction processing is now done by AI. An open banking regime is looming which will see greater sharing of transactional, account and repayment data between firms. But we will be doing much more and I believe it will have a profound impact on how financial services are delivered.
Francesco De Ferrari, AMP – Our wealth-management business has introduced analytics to better predict retirement outcomes for customers; showing customers in real time how their superannuation and investments will accumulate, whether they will achieve their goals and the sort of retirement they will be able to have. We are also using analytics to detect new or unexpected activity from customers where we may be able to help with some advice or support. We also apply the same data and technology and capabilities to compliance monitoring – product, fees and commissions, advice – and we will continue to invest.
Shemara Wikramanayake, Macquarie Group – The area in which we are most advanced is in in our retail business where we're delivering better client outcomes through the use of data analytics. We're also using AI on areas such as cyber security. Currently we are supporting a new Masters program at ANU to create new ways of thinking about artificial intelligence, especially at larger scale.
Geoff Culbert, Sydney Airport – Biometrics is the future for airports. Your face will be your passport and boarding pass. We have been trialling biometrics processing this year and will expand its use in 2019.
Frank Calabria, Origin Energy – Smart meters have changed the game, giving us a read on energy usage every 30 minutes, amounting 17,500 datapoints a year per customer. The potential of this data is infinite – to make energy more efficient, to deliver a better, more personalised service, and to give customers more control over their costs. We're also using AI extensively in our generation and retail businesses; for example, it's allowing us to shift energy use from high demand to low demand periods for some of our large customers, helping them save.
Graham Kerr, South32 – We've initiated several pilot programs which focus on using big data for running and maintaining equipment to help us understand its life cycle, as well as to manage our manganese ore-to-market process in a much more efficient manner. While still in the early days, we are seeing some big wins as a result. We are also investing in technology to improve safety and productivity, and to reduce our environmental footprint. For example, a robotic vehicle at our Worsley Alumina operation is working at heights and in confined spaces to reduce exposure for our people, and we recently launched the world's first underground autonomous drone flight at Cannington. The drone produces complete 3D images, providing valuable information that helps us to significantly reduce exposure to potentially dangerous voids.
Jeanne Johns, Incitec Pivot – Our precision blasting technology is unrivalled and helps our customers improve efficiency, safety and environmental impact. What is coming next is more automation – a fully automated drill and blast offer from a computer-generated blast design, individual blast analysis and sophisticated productivity analysis to provide a feedback loop to improve blast design faster and better. This will help our mining customers improve their productivity and increase demand for premium products and services.
Brett Redman, AGL – I think the best example would be our launch of AGL Energy Insights in Victoria this year. We've been able to take the data from smart meters and use algorithms to show customers where their energy is being used and how they can save, down to the category of appliance.
Craig Drummond, Medibank – In recent years we have shared our de-identified surgical data with specialty colleges to promote discussion about where improvements could be made in how care is delivered to our customers. We provide the data; as the clinical experts they provide the analysis.
Susan Lloyd-Hurwitz, Mirvac – We've established a Business Intelligence Centre of Excellence at Mirvac which has been created to drive greater insights into each of our businesses. One example of how it is changing our business is within our finance team where we are leveraging robotic technology to undertake a number of routine tasks which will free up time and enable the team to focus on more value-add activities.
Richard White, WiseTech Global – We have been using machine learning, natural language processing, automation and robotics for many years. This, plus our extensive global data sets, analytics capability and half our global workforce across 20 development centres involved in innovation and product development, give us a strong foundation to apply machine techniques to highly repetitive and low-value tasks that are (mostly) outsourced to low-labour-cost economies. You could say that we are helping remove outsourcing and bringing high-value work back to Australia.
What is the next big disruptive trend you are preparing for?
Graham Kerr, South32 – While not necessarily disruptive, we're seeing a big change in the way people work. For example, these days you often see younger people looking for a more flexible approach to their careers. They might want to work four days a week in their main role and one day a week following another passion. People also move from job to job a lot more frequently than in the past. Technology has made flexible working absolutely doable and to retain the best talent we need to make sure we offer conditions that keep our people engaged and happy in their roles.
Mick McCormack, APA Group – We've got too much renewable energy and not enough reliability in the grid. We need an emissions target that acknowledges different groups and different aspirations, which also has regard for the impact of energy costs on our society as a whole. I'd like to see Australia's dysfunctional lack of any clear energy policy disrupted by some uncommon sense, with a long-term policy put in place that will provide the certainty required to support equally long-term investment in new supply.
Brian Hartzer, Westpac – Access to new data sources, especially through the new open banking regime, is going to create lots of opportunity for new services and competition. It does, however, bring new risks in terms of privacy, fraud, and control over who can access your data. We think we're pretty well positioned to benefit from this capability, in ways that will help us improve service and make better credit and fraud decisions.
Rob Scott, Wesfarmers – Societal and organisational change resulting from changes to the way we work. Catalysts for this change are developments in technology, ageing of the population and increased competitive intensity. While some may be concerned about these changes, it presents various opportunities in terms of new and more rewarding jobs and enhancing quality of life.
Catherine Tanna, Energy Australia – Lately the most disruptive force in our industry has been the uncertainty created by unprecedented government intervention in markets and regulation, which is making it very difficult to commit to the investments and innovation required to improve energy affordability and reliability.
Shayne Elliott, ANZ – The main disruptive trend we're in the middle of is fintech which involves those massive disrupters like AI and machine learning. Fintechs are disruptive but we're already engaged and we believe it is more likely the banks will work with the fintechs, rather than the fintechs replacing the banks. So we're focused on selecting the best ideas and technologies and then partnering with the relevant firms to apply those ideas in a banking context.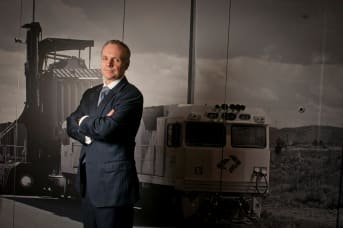 Alison Watkins, Coca-Cola Amatil – I'd say it's reshaping our company to meet the sustainability challenge, especially in plastics. Plastic is ubiquitous in waste streams and in the natural and marine environment. The presence of plastics in the air and oceans has given rise to some alarming reports of risks to animal and human health. We all of us face the challenge of turning this around. We have some runs on the board. Coca-Cola Amatil is one of Australia's largest purchasers of recycled plastics for consumer products. All our bottles and cans are now 100 per cent recyclable. But there's a lot more to be done. Suffice to say we've heard the message loud and clear on plastic waste, and we're moving fast to meet the challenge.
Mark Steinert, Stockland – The share economy is one of the most significant disruptions driven by technology in recent times – the peer-to-peer economy by definition disrupts the traditional business-to-consumer transaction and relationship. We're seeing growing trends towards access over ownership in many industries – the early days of rent the runway, recent times of co-working, and the emerging co-living movement. While very different examples of the share economy, each demonstrate the impact to traditional business models and the need to consider flexibility.
Richard Henfrey, Blackmores – Personalisation in medicine, nutrition and health are huge trends that will fundamentally change how we keep ourselves healthy and the treatment we receive when we are ill. Ultimately this may result in treatments, nutrition programs or lifestyle plans that are precisely targeted to an individual based on what their genetic make-up tells us about their response to different interventions. This has the potential to change the health and wellness landscape significantly and poses great challenges and opportunities for the established businesses in that space.
Peter Harmer, IAG – Sector convergence. We continue to see traditional business boundaries blurring and expect cross-sector competition for our customers and consumers more generally, especially from companies with high customer engagement and insights (like technology and digital-native companies). We're building an IAG that is fit for the future by more deeply engaging with customers and becoming more relevant to them.
Geoff Culbert, Sydney Airport – We are doubling down on cyber security. The threat vectors are complex and increasing.
Michael Cameron, Suncorp – Customer expectations will only continue to increase with a desire for more convenient and tailored products and services. The digitisation of the customer experience will accelerate, particularly in financial services, and as a business Suncorp has been responding to this trend for some time now with significant investment in innovation and new technology. In doing so we are enhancing the value we can deliver for our customers, giving them more personalised and meaningful services and experiences.
Darren Steinberg, Dexus – One disruptive trend that we are focused on is the growth in online retailing which is creating challenges within the retail sector and also creating opportunities within the industrial sector. In response to retailers adopting omnichannel models, we have combined our retail and industrial teams within our organisational structure to take advantage of emerging synergies across in-store retail, e-commerce and logistics.