This, the party believes is because some of the swing away from the government that is driving the headline 55-45 result is occurring in safe Labor and Liberal seats.
Home Affairs Minister Peter Dutton, who won his seat of Dixon from Labor's Cheryl Kernot in John Howard's famous come-from-behind victory in 2001, said on Monday the election was not out of reach for the Morrison government.
He noted Scott Morrison was a much better campaigner than Mr Turnbull who, in 2016, called a long eight-week campaign and operated at a lacklustre pace.
"I've been in Parliament for 17 years. I've seen John Howard in a much worse position than what we are at the moment and he came back," Mr Dutton said.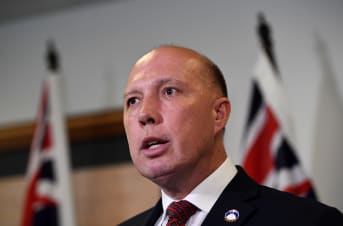 "And I believe that Scott Morrison has many of the attributes of John Howard. I think he has the ability to communicate very effectively. I think he will campaign in a way far more superior than we saw at the last election in 2016."
Shorten's unpopularity
Mr Dutton said the entrenched unpopularity of Labor leader Bill Shorten also gave the Coalition reason to hope.
"People have a real hesitation about Bill Shorten; they think there is something dodgy in his background and that is the case," he said.
"There are reasons – I think tangible reasons – that we can turn this around."
The latest Newspoll result came at the end of a messy parliamentary fortnight for the government, which culminated in it spending the final sitting day for the year staving off an attempt by Labor and the crossbench to pass a bill speeding up the medical transfer of asylum seekers. Had it passed, the government would have been the first to lose a vote on legislation in the lower house since 1929.
Mr Dutton said a messy Parliament reflected on the government – Liberal or Labor – regardless of who was causing the chaos.
"I've always seen Parliament as a disadvantage frankly for sitting governments. Whatever happens, however messy it looks, the tough decisions that need to be made are always sheeted home to the government of the day."
Labor would make the same point during the Gillard years, when the Abbott-led opposition would deliberately disrupt Parliament.