APRA has accused the pair of failing to act in the best interest of super members, and in doing so breaching the Superannuation Industry Supervision Act.
More than this though, APRA's super tsar Helen Rowell said the pair had shown "a lack of understanding of their personal and trustee obligations under the SIS Act and at law, and a lack of contrition in relation to the breaches of the SIS Act by APRA".
Asked of the likelihood of the pair eventually returning, Griffiths made it clear his focus was elsewhere.
"That could take some time to play out," he said of their legal fight. "They are no longer in the business. Our major focus is keep running the business, stabilise the business … and at the same time deliver to APRA has per as our commitments."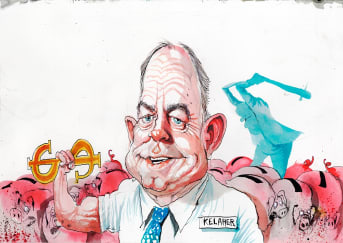 Board 'shocked'
Griffiths said the board had been "shocked and a little bit astounded and taken aback" by the APRA action, which IOOF will be vigorously defending.
"We believed we were having a constructive dialogue with APRA," Griffiths said and pointed to the items in the "managed action plan" that it says it has been working on with the regulator.
These include separating its registrable super entity and responsible entity functions into distinct legal entities, ensuring its super trustee boards have an independent board and a majority of independent directors; both Kelaher and Venardos had already left these boards before APRA started its action last Friday.
"We have been actioning all those things and the dialogue has been consistent right throughout," Griffiths said.
IOOF is taking sensible and prudent actions. But they are coming very late in the piece, and only after a prolonged period of foot-stamping and hectoring by APRA, the pussycat regulator that was so steamed up by IOOF's repeated inaction that it took the nuclear option last week.
How IOOF didn't have independent boards in place for its super trustees before now is, frankly, a little bewildering given both the requirements of the SIS Act and the obvious potential conflicts in managing the interests of IOOF shareholders against IOOF super fund members.
The legal separation of the RSE and RE functions was something that APRA started raising in late 2015, according to evidence given to the royal commission.
Griffiths said in Monday this was no easy task – "it's not just a matter of paperwork and its done" – and is well under way. But the fact that it's still not done speaks volumes about how far behind the game IOOF is, and exactly where its priorities have been under Kelaher.
ANZ review
Griffiths also defended the decision to allow chief financial officer David Coulter, company secretary Paul Vine and general counsel Gary Riordan to remain in their positions.
IOOF says the trio will have no responsibilities in relation to the management of its super trustee companies and no engagement at all with APRA during the period.
How the company's top legal eagle will manage that is a little hard to understand, but Griffiths says IOOF has a large legal team, and he will be meeting with APRA later this week, after speaking with the regulator this morning.
He and acting CEO Renato Mota were due to meet with ANZ Banking Group on Monday afternoon to discuss the sale of the company's super business to IOOF. ANZ said on Friday it was reviewing the deal after the APRA legal action.
Griffiths said he is keen for the deal to proceed. "We will believe it's in the best interest in the super members of ANZ to be part of IOOF."
Time will tell if ANZ agrees.
James Thomson
j.thomson@afr.com