The abusive feuding with his former ally, and the pending departure of Mr Kelly, coincides with growing signs the Robert Mueller's probe into Russian collusion in the 2016 presidential campaign is coming to a head. Anticipation has been building across Washington over recent days that Mr Mueller's inquiry is reaching its final stages.
Federal prosecutors on Friday for the first time said Michael Cohen acted at the direction of the president when the former attorney made payments to prevent a potential sex scandal that may have threatened the president's 2016 campaign.
Much of the pressure of managing the likely fallout fall on the head of the president's next chief of staff, widely reported to be Nick Ayers, the 36-year-old chief of staff to Vice President Mike Pence.
Stephen Bannon, Mr Trump's former strategist, predicts 2019 would be a year of "siege warfare", casting the president's inner circle as naively optimistic.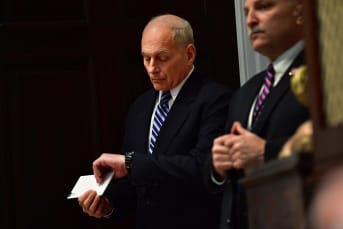 "The Democrats are going to weaponise the Mueller report," Mr Bannon said, according to the Washington Post. "The president can't trust the GOP to be there when it counts … they don't feel any sense of duty or responsibility to stand with Trump."
In a sign he is gearing up for the long fight, and countdown to the 2020 presidential race, Mr Trump on Friday announced William Barr as his choice for attorney-general, and nominated a former Fox TV host Heather Nauert as United Nations ambassador.
Mr Kelly's tenure in the Trump White House, which he joined in July last year to bring greater rigour to the president's office, has followed what is increasingly becoming a standard script.
Initially lauded by the president, the opening months are usually marked by public statements of approval, which gradually give way to leaked reports of conflict between the person and the commander-in-chief. In Mr Kelly's case, there has been a long stream of stories of him describing the president as an "idiot", and vows to other staffers that he was leaving and not coming back.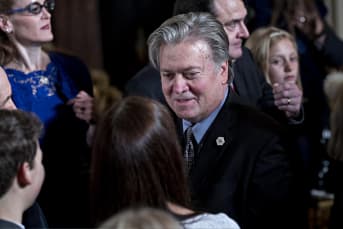 Mr Kelly's departure closes the circle, and reinforces perceptions of a White House in a constant state of turmoil.
The irony is that Mr Trump taunted his predecessor Barack Obama in 2012 for having three chiefs of staff in "less than 3 years … part of the reason why @BarackObama can't manage to pass his agenda."
After Mr Kelly leaves, Mr Trump will reach that particular milestone in half the time it took Mr Obama.